5 Unexpected Fruits to Try in Your Frozen Concoctions
There are so many ways to make a delicious frozen concoction with your Margaritaville® Jimmy Buffett Anniversary Edition Key West™ Frozen Concoction Maker®. Fresh, juicy fruits and flavored liqueurs create the perfect frozen drink, whether it's one made with tropical fruits like pineapple, mango and coconut or one inspired by sweet, in-season berries.
There are so many exciting ingredients to add to your frozen concoctions - the possibilities are endless. With all due respect to the classics, try these five unexpected fruits in your frozen concoctions:
1. Starfruit
The starfruit may be small, but it will add a one-of-a-kind refreshing flavor to your frozen concoctions. Mild and delicate starfruit pairs perfectly with frozen concoctions featuring softer flavors like cucumber, lemon and mint. It also adds a sweet touch to pineapple, melon and mango frozen concoctions. To really give starfruit the chance to shine, try making this recipe in your Frozen Concoction Maker®: Combine 2 starfruit​s, peeled and seeded, 6 ounces white wine, 1 cup frozen raspberries, 8 ounces club soda and a twist of lemon juice. Starfruit liqueur is another tasty way to add some unexpected flavor to you frozen concoctions.
2. Avocado
Sure, avocado is a go-to on tacos and other Mexican-inspired dishes, but did you know this delicious fruit can help you create an amazing frozen concoction? Just take inspiration from high-end cocktail bars, which are infusing their creations with the creamy fruit. A no-fail hit is an avocado margarita: Just mix together 1 avocado, peeled and seed removed, 6 ounces tequila, a splash of orange liqueur and fresh lime juice, and a dash of salt in your Frozen Concoction Maker®. It may sound unusual, but avocado blends well with other flavors, adding a rich thickness that can be difficult to achieve with some other fruits.
3. Prickly Pear
A fruit that tastes like a cross between bubble gum and a watermelon? Sounds like a winner! Prickly pear is an exotic fruit that grows out of a cactus. Dismantling a prickly pear yourself can be a dangerous endeavor - watch out for those needles! - so a better bet is to use prickly pear liqueur in your frozen concoctions. It will add a unique sweetness to frozen concoctions made with a variety of ingredients, from vodka and fresh pineapple to rum and coconut. Or, bring out the watermelon notes in prickly pear by mixing up a frozen concoction made with watermelon cubes, vodka, agave nectar and prickly pear liqueur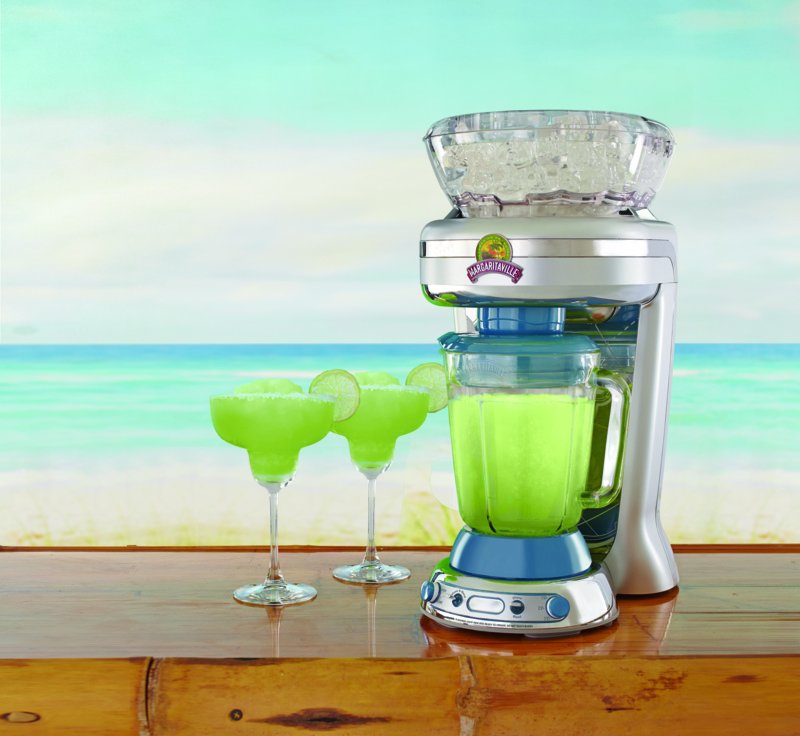 4. Blood Oranges
Darker and juicier than its typical orange cousin, the blood orange will help you create a bolder frozen concoction with a vibrant, fiery color and fierce flavor to match. You can play the flavors of blood orange off other fruits in the citrus family for a deliciously refreshing frozen concoction - gin, bitters, orange liqueur and fresh blood oranges mixed together in your Margaritaville® Jimmy Buffett Anniversary Edition Key West™ Frozen Concoction Maker® will wow at parties. Or, you can try some other creative ingredient combinations, like blood orange, lemon and vodka.
5. Lychees
Wishing your were on a tropical vacation? Look no further than lychees. This small, fragrant fruit is a match made in heaven with sweet coconut. Put an unexpected twist on a classic frozen pina colada by mixing together rum, coconut milk, pineapple juice and fresh, peeled lychees in your Margaritaville® Jimmy Buffett Anniversary Edition Key West™ Frozen Concoction Maker®. You can also use lychee liqueur in the place of fresh fruit. Lychees have a mildly sweet flavor, which also make them well-suited for frozen cocktails made with fresh herbs, teas and lemon and lime juice.
Remember to enjoy your frozen concoctions responsibly and follow all drinking laws.