Perfect Food and Frozen Drink Pairings
Enjoying a delicious frozen concoction on its own is a great way to escape to paradise, but why not try pairing your favorite frozen drinks with with some delectable eats? Combining frozen refreshment with dishes that perfectly complement their flavor profiles takes your concoctions to the next level.
Try these perfect food and frozen drink pairings anytime you want to feel like you're on vacation:
Coconut Shrimp with Frozen Piña Colada
You're relaxing on the beach, the sand soft under your feet and the sound of waves sending you into a peaceful state. Sure, you open your eyes and you're actually in your backyard, but the frozen piña colada in your hand is making you feel like you're miles away. Complete the daydream with a side of sweet and crispy coconut shrimp to pair with your frozen coconut drink mixed in your Frozen Concoction Maker®. For an extra touch of the tropics, serve a sweet pineapple dip with the shrimp.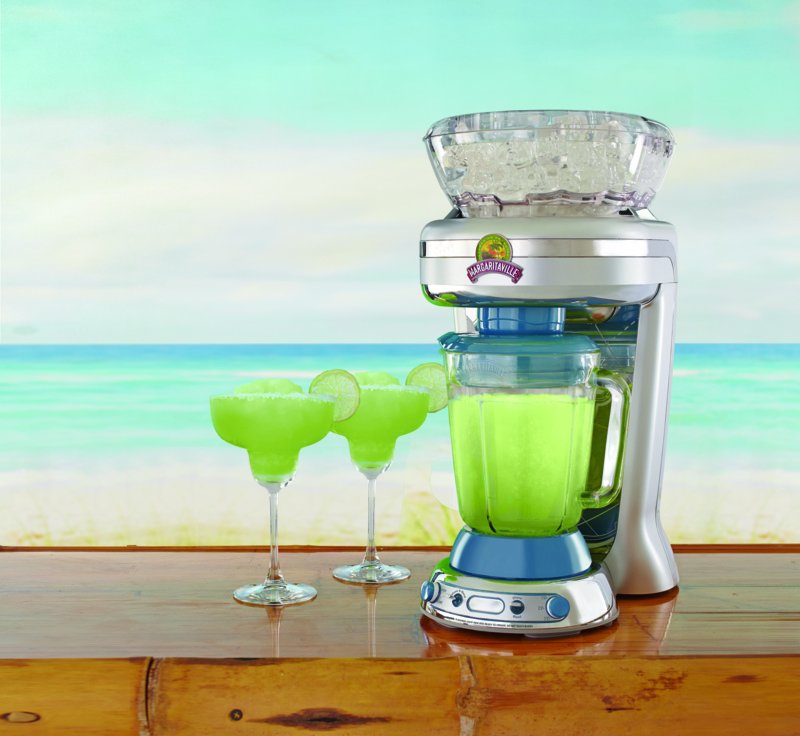 Avocado-Lime Chicken Burgers and Classic Frozen Margarita
It's time for beer to move on over - margaritas pair just as well with juicy chicken or beef burgers. Stick to the basics for this food and frozen drink pairing by making a classic frozen margarita in your Frozen Concoction Maker® with tequila, orange liqueur and lime juice - with a salt-rimmed glass, of course! Assemble a grilled chicken breast on a fluffy bun then top with a slice of pepper jack cheese, sliced avocado and a generous spritz of fresh lime juice. The fresh lime flavor and creamy avocado make this burger a winner when paired with a refreshing classic drink.
Apple-glazed Pork with Frozen Mint Mojito
A frozen mint mojito is the ultimate refreshing treat with a cool, crisp taste. Pair the minty freshness of this frozen concoction with grilled pork brushed with a just-sweet-enough apple glaze. It's a winning flavor combo that's unexpected yet entirely delicious. The juicy pork is balanced by the fresh mint, while the apple glaze brings out the subtler notes of sweetness in the meat. It's an all-around fantastic pair that is filling without being heavy.
Steak Tacos with Frozen Cilantro and Mango Margarita
South-of-the-border flavors inspire this perfect frozen concoction and meal pairing. Take inspiration from the tropical fruit flavors of a frozen concoction made with cilantro and mango and top steak tacos with chopped mangoes, pineapples, tomatoes, onions and, of course, finely chopped cilantro. For a little extra heat, you can top your tacos with minced jalapeños, which the frozen concoction will cool right off. This is a crowd-pleasing combo boasting a cohesive flavor profile. Make the frozen cilantro and mango margarita chiller in your Frozen Concoction Maker®, then settle down with a plate of juicy steak tacos.
Breaded Garlic Aioli Tilapia with Frozen Sangria
The light and fruity flavors of sangria make it a classic match for seafood. Do a new take on the pairing by enjoying frozen sangria with a buttery filet of grilled tilapia topped with breadcrumbs, garlic aioli and a splash of fresh lemon juice. To make the frozen sangria, simply combine red wine, lemon juice, seltzer water, orange liqueur, ice and plenty of chopped fruit to your frozen concoction maker and mix together. The perfect option any time you want to enjoy a light and refreshing meal, this food and frozen drink pairing is perfect for parties and dinners with friends. Simply mix a large batch of sangria in your Frozen Concoction Maker®, throw some fresh tilapia on the grill and enjoy basking in your island escape.