Roll Out These Party Themes
You don't need a reason to throw a party - just your Frozen Concoction Maker® and some friends and family! Grab some ice and tequila, and call everyone over and escape to party paradise with one of these fun themes:
Under the Sea
Turn your patio into a fun-loving octopus's garden with an under-the-sea theme. For the perfect aquatic atmosphere, hang fishing net along the patio railings and intertwine it with blue-hued string lights, then hang up gauzy blue fabric and silver tinsel behind the bar. Create your own sea floor by scattering sea shells and decorative starfish of all sizes around the space, while fishing buckets filled with sand make the perfect holders for your frozen concoctions and other treats. Placing small tea lights in blue Mason jars creates a soothing, ambient glow fit for a mermaid grotto (never mind the physics of having lit candles underwater!). Make sure your bar is fully stocked with plenty of tequila and rum for delicious frozen concoctions that will have you and your guests feeling refreshed.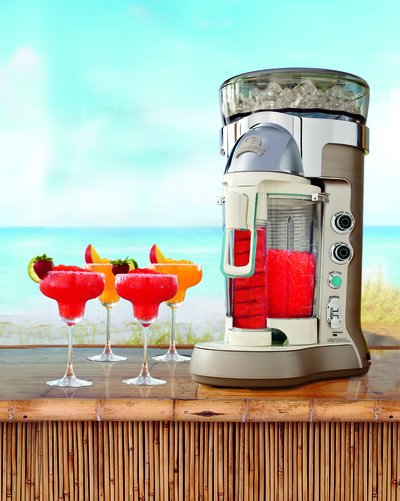 '60s Surf Party
Hang ten with this fun '60s surf party theme. This party wouldn't be complete without a surfboard, so if you weren't one to catch a wave back in the day, scout out a board online or at a second-hand store - or snag a few colorful boogie boards from a local shop. Get some good vibrations going by setting out some beach balls and laying down some comfy beach blankets for guests to lounge on. Hand-painted signs with surf lingo like "cowabunga" add extra charm. Crank some some vintage tunes while you serve drinks made with your Frozen Concoction Maker® to complete the vibe.
Sunset Luau
The sun may be going down, but the party is just getting started. Inflatable palm trees are the perfect party foliage, while tiki torches and multi-colored string lights keep the action going once the sun sets. Decorate your tables and chairs with raffia garlands and colorful flowers for a tropical touch. Pineapples and palm tree fronds make great centerpieces, too. Stock your bar with all the tropical fixings, including mango, pineapple and orange slices and mini umbrellas for colorful garnishes to your frozen concoctions. Place bowls of flower leis around the space, and make sure every party guest receives one. In between frozen concoctions make water and other non-alcoholic beverages available to guests by serving them in a small, kiddie-sized inflatable pool filled with ice.
Buried Treasure Pirate Party
Throw a bash even Blackbeard would crack a smile at with a party fit for a band of pirates. Hang large pieces of burlap or canvas from the top of your bar and from trees to mimic ship sails, and hoist some lanterns and light tall white candles for authentic cabin lighting. A black pirate flag will let your guests know you mean business, as will the tricorn hats and eye patches that you hand out to each guest as they arrive. Use your Frozen Concoction Maker® to mix frozen drinks made with a pirate's favorite libation, rum, to ward off all signs of scurvy - or more realistically, thirst - until you reach land. Fill a few crates or "treasure chests" with chocolate coins and snacks, and make sure each one of your mates get a fair share of the booty.