5 Reasons You Deserve an Island Escape
If the fast pace of modern life has you frequently wishing for a margarita, you're not alone. Everyone needs to get away from it all sometimes to unplug, unwind and take some much need R&R.
Wouldn't it be nice to leave boardrooms and bills behind for the Bahamas? A vacation to a tropical locale is sure to revive your spirits, planning them is a chore and the cost will just add to those bills. But escaping to paradise anytime is as easy as mixing your favorite frozen concoction in your Margaritaville® Bahamas™ Frozen Concoction Maker®. Anytime, anywhere, you can get away.
Still think you have to slog through your work without a break to let loose? Here are five reasons why you deserve an island escape:
1. You're singing 'It's 5 O'Clock Somewhere' to yourself in your cubicle
Singing away while you respond to emails or file papers? It's time you escape the cubicle for the Caribbean. Even people who are incredibly passionate about their job find themselves longing for paradise from time to time. So if you're humming an island tune as you type, it's time to grab some ice and your Frozen Concoction Maker® when you get home .Your coworker in the cubicle next to you will thank you!
2. You have a suitcase at the ready at all times
Some people keep a bag packed with essential items in case of emergency ... but you keep a suitcase in the corner of your bedroom packed with your swimsuit, a towel and sunscreen. If you're ready to jet off to a warm destination, it's finally time to parlay that preparedness into a trip to paradise. Even when there are no cheap flights out of town, you can still throw a tropical-themed party for family and friends this weekend. Don't just wait for the right time to escape to paradise - make the time yourself!
3. The fountain by your office is the closest you've gotten to water this year
Wishing you could take off your shoes and dip your toes in that fountain in front of your office building? It's time you got away. Cement and smog far from sand and sun - and everyone needs to spend some time by the beach to refocus. But you don't need to fly to a five-star resort on the beach or even take the train to the stretch of sandy shore right outside the city - who needs salty sea air when there's salt on the rim of your backyard margarita?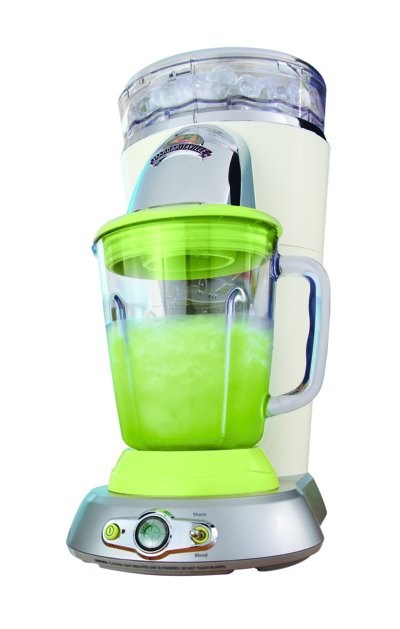 4. The only iced drink you're having is your morning iced coffee
Everyone needs some caffeine to start their day off on the right foot, but if the only ice in your glass is coming from your neighborhood cafe, it's time for an island escape. You're never too busy for a freshly made frozen concoction straight from your Margaritaville® Bahamas™ Frozen Concoction Maker®, so whip up your favorite recipe tonight. Your spirits - and your taste buds - will thank you!
5. You're seeing more screen than sun
Staring at a computer or smartphone all day can do a number on your eyesight and your spirit. It's important to take time out of even the busiest of schedules to reconnect with nature and get some Vitamin D. Instead of curling up on the couch with your favorite TV show this weekend, spend some time outdoors lounging and enjoying the fresh air - with a frozen concoction in hand, of course. If you want to help your friends unplug and escape to paradise too, you could even throw an island party in your backyard. The more company in paradise, the better!