3 Kiwi Kocktails
Kiwis are a great tropical fruit to use in your frozen concoctions. Sweet, strong and undeniably tropical, these fuzzy fruits are a great addition behind your home bar. Try making these three kiwi-centric cocktails in your party machine.
1. Kiwi Margarita
To make a perfect kiwi drink, start with the perfect cocktail - a margarita. This cocktail recipe keeps that green color margaritas should have as well as the simplicity that makes these tropical drinks so wonderful. Here's what you'll need to get started:
4.5 ounces or 3 shots of gold tequila
3 ounces of triple sec
2 large peeled kiwis
3 ounces fresh lime juice
1.5 ounces simple syrup
Salt
Ice
Mix your alcohol, fruit, juice and sweetener into your party machine's blender jar. Next fill up the ice hopper and then switch the machine on. Watch as it shaves the ice and concocts the perfect green margarita. Serve in a salt-rimmed margarita glass with a wedge or lime and kiwi. It'll be a little pulpier than your classic margarita, but the extra flavor will make up for that.
2. Kiwi Colada
This twist on the classic piña colada adds fresh fruit to the pineapple and coconut, which makes this drink tastier and green. Make it yourself by combining these ingredients in your frozen concoction maker's blender jar:
3 ounces or 2 shots white rum
3 ounces melon liqueur
4 ounces cream of coconut
3 peeled kiwis
1/2 cup pineapple juice.
Make sure your ice reservoir is filled, then just turn on your machine and watch as it does the rest. Once it's ready, you'll have a rich, sweet kiwi cocktail that's strong and exotic. Serve in a tumbler or hurricane class with kiwi and pineapple wedges as garnishes.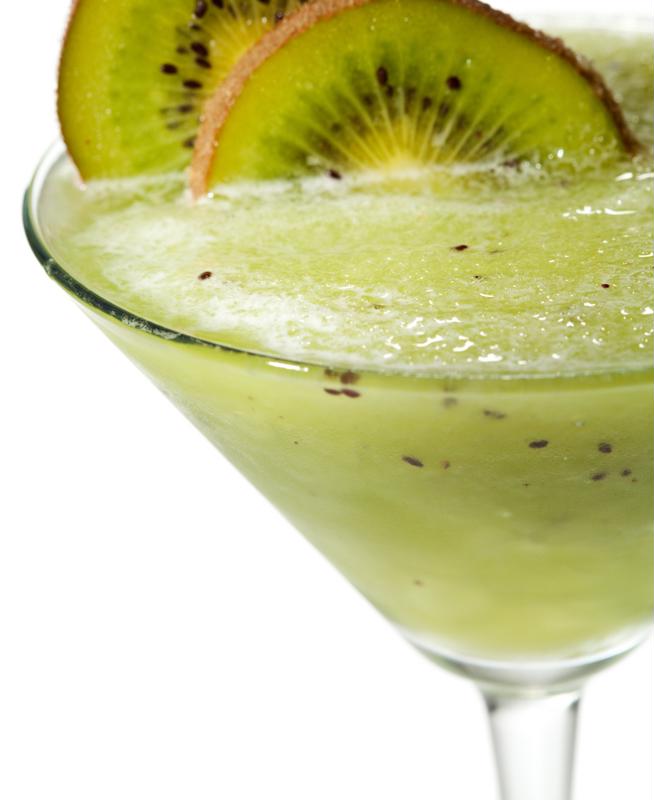 3. Strawberry-Kiwi Mojito
One of the most popular kiwi-based cocktails is the mojito. Try a customized twist on this trendy option by adding the perfect kiwi complement - strawberry. Use your margarita maker to blend a great-tasting drink with these ingredients:
4.5 ounces white rum
2 tablespoons fine sugar
1.5 ounces lime juice
2 peeled kiwis
1/2 cup cut, frozen strawberries
1 tablespoon mint syrup
Mint leaves
Ice.
Fill up the ice compartment of your party machine and pour the rum, juice, fruit and sugar into its blender jar. Turn the machine on and prep your glasses. Add fresh mint to the bottom of the glass of your choice, typically something tall and thin. Serve with fresh-cut kiwi and strawberry chunks.
Your fellow Parrotheads at Margaritaville® Cargo remind you to enjoy your frozen concoctions responsibly and obey all drinking laws.